About the Journal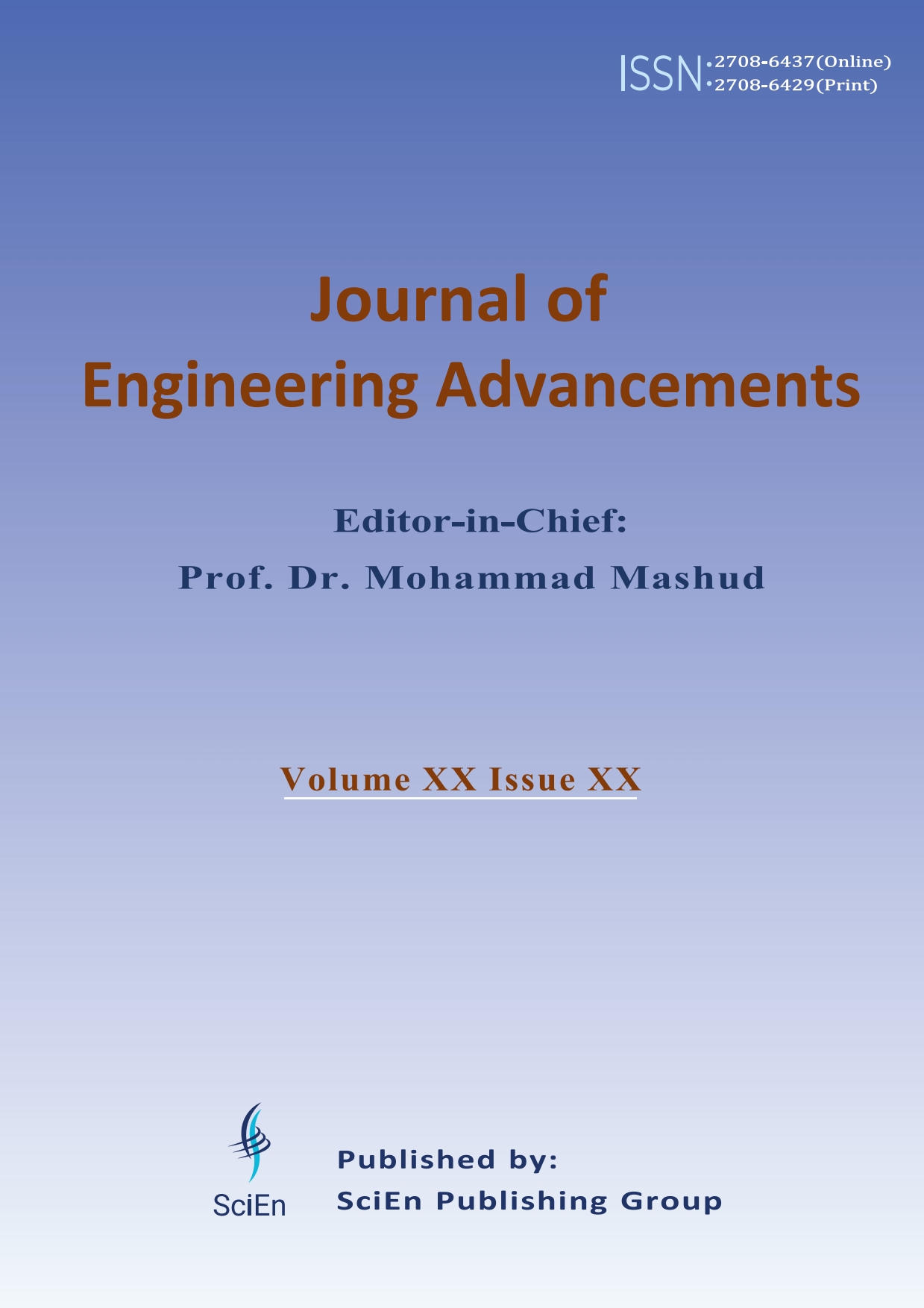 Journal of Engineering Advancements (JEA) is an open access peer-reviewed international journal publishes original research articles, review articles and short communications in the field of applied science and engineering. JEA publishes four issues per year in the month of March, June, September and December.
The topic related to this journal include but are not limited to:
Applied Physics
Applied Chemistry
Applied Mathematics
Aerodynamics
Civil Engineering
Industrial Engineering
Mechanical Engineering
Textile Engineering
Computer Science and Engineering
Medical Technology
Electrical and Electonics Engineering
Material Science and Engineering
Structural Engineering
Computational Engineering
Nuclear Engineering
IoT
Machine Learning
Information Technology
Thermofluids
Production Technologies
Materials and Metallurgy
Environmental Engineering
Geotechnical Engineering
Structural Engineering
Transportation Engineering
Control, Intelligent Systems and Robotics (CIR)
Cyber Physical Systems and Design Automation (CPSDA)
Information, Data, Network and Communication Sciences (IDNCS)
Signal Processing
Cloud Computing
Databases and Data Mining
Wireless Networking and Security
Biomedical Engineering
Applied Statistics and Statistical Learning
Optimization
Management Science
Agriculture
Open Access Policy
Journal of Engineering Advancements (JEA) is an open access and peer-reviewed journal.
User Rights
All articles published open access will be immediately and permanently free for everyone to read, download, copy and distribute. Permitted reuse is defined by the following user licenses:
Creative Commons Attribution-NonCommercial (CC BY-NC):
All the articles published by this journal are licensed under a Creative Commons Attribution-NonCommercial 4.0 International License
Article Submission Fee
JEA does not have any article submission fee. Publication fee is applicable only for the accepted article.
Open Access Publication Fee
As an open access journal with no subscription charges, a fee is payable by the author or research funder to cover the costs associated with publication. This ensures your article will be immediately and permanently free to access by everyone. The open access publication fee for this journal is: 60 US$ or 5000 BDT.
SciEnPG will bear the Open Access Publication Fee until 30th of June 2021.
Article Publishing Fee Waiver and Discount Options
This journal practices no waiver policy.
Author Rights
For open access publishing in this journal, authors will retain copyright alongside scholarly usage rights.
Indexing/Abstracting
Journal of Engineering Advancements (JEA) has its own DOI number: https://doi.org/10.38032/jea
JEA is a new open access journal launched in March 2020. Continuous efforts are in progress to get it abstracted and indexed in popular indexing databases like Scopus, SCI, DOAJ and ISI.
Journal ISSN:
2708-6437 (Online)
2708-6429 (Print)
Abstracting and Indexing Databases:
Review Policy
Journal of Engieering Advancements (JEA) practices double blind peer review policy i.e. both the authors and the reviewers do not know each other's identity.
However, the editors review the manuscript to check the suitability of the submitted papers to be published in JEA before sending the manuscript to the potential reviewers.
Conflicts of Interest
On behalf of all the authors, corresponding author should declare any conflict of personal or financial relationships with any person or organization that may inappropriately influence their work. If no conflict of interest present, the author should check the "There is no conflict of interest" box.
Similarity Check
All the submitted papers undergoes a similarity check by Crossref Simililarity Check powered by iThenticate and if a paper has significant amount of similarity the paper is sent back to authors for revision without sending for review.
Publishing Ethics
In order to build a network of knowledge, publication in a peer reviewed journal plays an important role. So, it is very important for all (authors, reviewers, editors or publishers) related to journal publication practices standard ethical behavior. Click here to read our publication ethics.